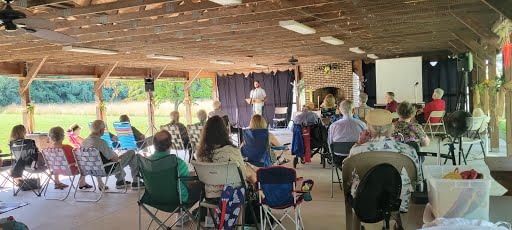 In-Person Worship takes place at our Apple Pie Ridge Campus on Sunday mornings at 10:00 AM.  You can expect to participate in worship through a mix of live and pre-recorded segments that includes recorded music, singing, prayer, children's time, and a message.
 
If you are interested in attending, you can register online or by contacting the church office at 540-662-3151.  Due to a rise in COVID cases associated with the Delta Variant of the disease, we are asking participants aged 5 and up to wear a mask covering mouth and nose regardless of vaccination status.  You can look over our Health Acknowledgement Form for reference prior to attending.
If you're interested in how we are able to make space for in-person worship, you can see the plan we have developed for how to keep us all safe as in worship here.
Online Worship is offered through 
Facebook
and
Youtube
on Sunday mornings at 11:00 AM. 
The service is pre-recorded with the same theme and message as our In-Person Worship service.  You can expect music, a message, prayer, and the opportunity to engage with others through comments and chat.
You can also catch up with last week's service below.